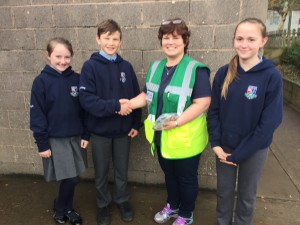 Thank you so much to all the staff and pupils of the Glebe School in Wicklow for your very generous donation to Wicklow Town Community First Responders.  Thanks again for your support.
Kind Regards
Myrtle
What First Responders Do:
When a call comes in to the National Ambulance Service for Wicklow town and the surrounding areas that is for Cardiac Arrest, Chest Pain, Choking, Stroke or Unconscious/Passing out, the Wicklow Town First Responders receive the call simultaneously.
Two responders will go to the call and administer to the patient until the ambulance arrives. In addition instructors within the group provide training and raise awareness around what to do when someone collapses and needs CPR. Through various fundraising activities Wicklow Town Community First Responders have provided and maintained three Public Access Defibrillators in locations throughout Wicklow Town and are hoping to increase this number in the coming year. Our priority is to help save lives and to empower others to act in the event of a medical emergency.